On Tuesday, May 5, 2015 advocates from across New York State will gather in Albany to rally and lobby in support of the Gottfried/Perkins New York Health Act (A5062/S3525).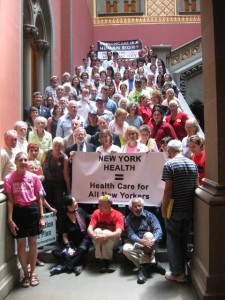 The New York Health Act will create a publicly funded, universal, single-payer healthcare system in our state, guaranteeing healthcare to all New York State residents with no out of pocket costs. Everyone will be covered, regardless of immigration or employment status. Unions will be able to negotiate for wage increases, instead of struggling to keep their benefits. New York State could negotiate better drug prices by creating a statewide market with more purchasing power.
Providers will have streamlined billing and payment procedures – no more haggling with insurance companies. Employers will have lower, predictable costs, without restrictive networks. Local governments will save on public employee benefits.
RSVP today for lobby day and get free transportation to Albany!
More information at nyhcampaign.org.

Upcoming Events
Single Payer Lobby Day Training

Join PNHP NY Metro for a Lobby Day Training on Sunday, April 12th, 11am – 3pm. This session will prepare you to advocate for a universal, single-payer healthcare system that puts people over profit.
WHEN: Sun, April 12, 2015 at 11am – 3pm
WHERE: NYSNA – 131 W 33rd St, 4th Floor
This event is free and open to all. Lunch included. Wheelchair accessible.