Healthcare-NOW! NYC is joining a march and rally this Saturday, March 8th at 10am at the site of the soon-to-be Koch Pavilion, a new hospital in New York's wealthiest neighborhood, the Upper East Side, named for New York City's wealthiest resident, oil tycoon David Koch. Koch, with his brother Charles, personally finances many of the most far-right wing causes and organizations in the U.S.
When:
Saturday March 8th 10AM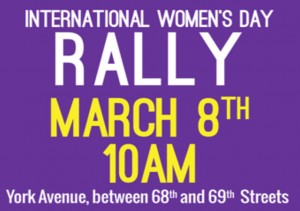 Where: York Ave between 68th and 69th streets (Accessible by 6 Train or M72 Bus)
Endorsing Organizations:1199 SEIU, New York State Nurses Association, NAACP New York State Conference,
African Services Committee, ALIGN-NY, Bailey House, Center for Popular Democracy,
Community Voices Heard, Doctors for the 99%, HIV Prevention Justice Alliance, Healthcare-NOW! NYC,
Healthcare for the 99%, Interfaith Coalition, La Aurora, Left Labor Project, Make the Road New York, Met
Council on Housing, Metro New York Healthcare for All, National Dominican Women's Development
Center, National Action Network, National Organization of Women-NYC, New York Communities for
Change, Physicians for a National Health Program-NY Metro, Rockaway Wildfire, Strong Economy For All
Coalition, VOCAL-NY, Washington Heights Corner Project, Working Families Party.
Electeds: State Senator Espaillat, City Councilmember Kallos, City Councilmember Rodriguez