SPEAK UP FOR SINGLE PAYER
UNIVERSAL HEALTHCARE IN NEW YORK
The New York State Assembly Health Committee will be holding hearings on the New York Health Bill in six cities across the state from Dec 4th to Jan 13th. This is your chance to speak up for the need for a universal, single payer healthcare system in New York state.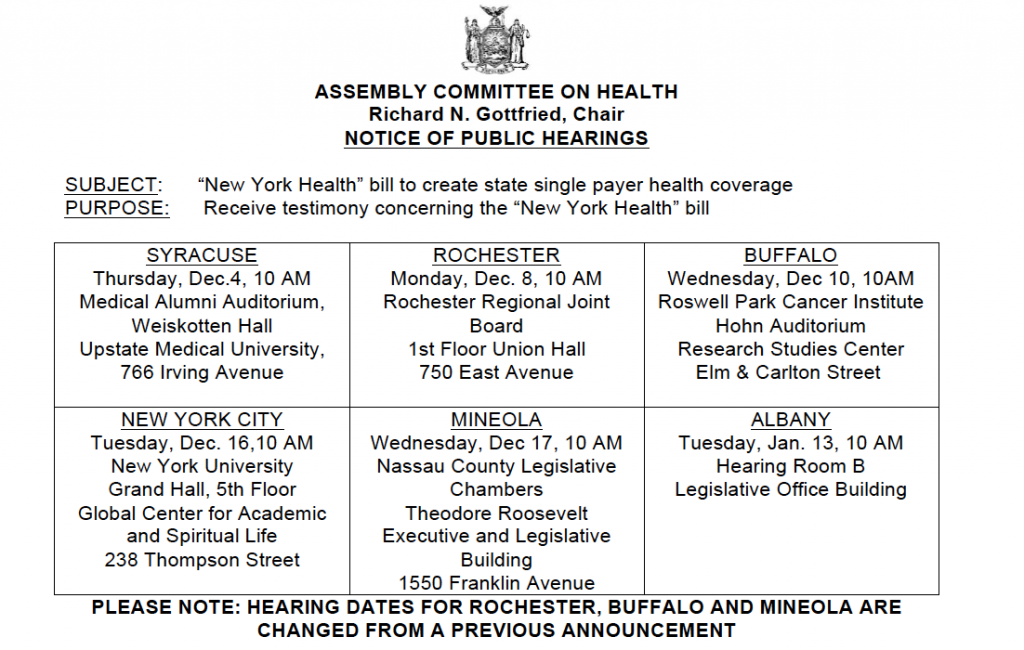 If you answer yes to any of the questions below or have another story to share about how the current for-profit system affects you, please attend and/or testify at this hearing.
Are you uninsured or underinsured?
Have you ever delayed care because you couldn't afford the copay or deductible?
Have you ever stayed in a job just to keep your health insurance?
Have you ever been denied necessary care by your insurance company?
Have you ever had to file for bankruptcy because of medical debt?
Are you a medical professional who is frustrated with the barriers that private health insurance companies create?
Do you have to make difficult choices between paying your health care premium and other bills?
Show your support.
Even if you don't plan to testify, please attend to show your support for making health care a right for all New Yorkers! 
Deadline: If you do plan to testify at the NYC Hearing on Tues, Dec 16 please let us know by Dec 9th in order to secure your place at the hearing.