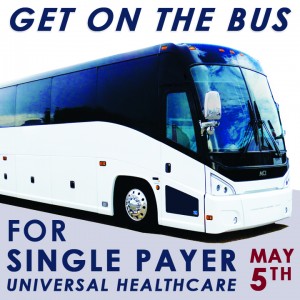 On Tues, May 5, 2015 advocates will gather in Albany to rally and lobby in support of the Gottfried/Perkins New York Health Act (A5062/S3525).
We need a health care system that doesn't bankrupt us when we get sick. We need a health care system that allows doctors and nurses to spend time with their patients delivering care, not fighting insurance company bureaucrats. We need a health care system that puts us in line with the rest of the industrialized world by covering every resident, leaving no one out.
RSVP by April 28th to guarantee a seat on the bus and in the meetings with legislators. Transportation is being organized across the state including from Rochester, Syracuse, Utica, Ithaca, New York City, Long Island, and Staten Island.
We need YOU to pass the bill in the state Assembly this session.
Join us because health care is a human right, not just a luxury for those who can pay!