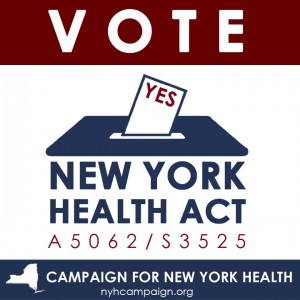 Our day has come, the New York Health Act — the universal, single payer health care bill — is coming to the floor of the NY State Assembly for a debate and vote TODAY, Wed, MAY 27, 2015. The session starts at 3PM.

Passing truly universal health care in New York State will change the debate, sending a message nationwide that people want health care treated as a right, not a commodity only for those who can afford to pay. It's a vital step in building a campaign that will win the right to health care for all.
We still need your help: call your Assembly Member NOW and urge them to vote YES on the New York Health Act (A.5062) at 518-455-4100.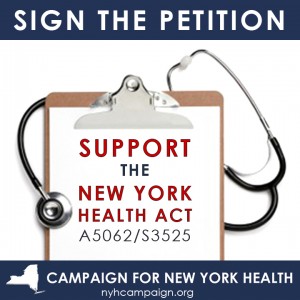 If you haven't yet, sign and share the petition to Speaker Heastie thanking him for his support. Over 600 people have already signed and hundreds have mailed post cards. Spread the word far and wide via social media!
Tune in at 3PM to watch the Assembly proceedings live online here. And follow us on Facebook or Twitter at @NYHCampaign for live updates.
We couldn't have done this without you; be there as we make history.